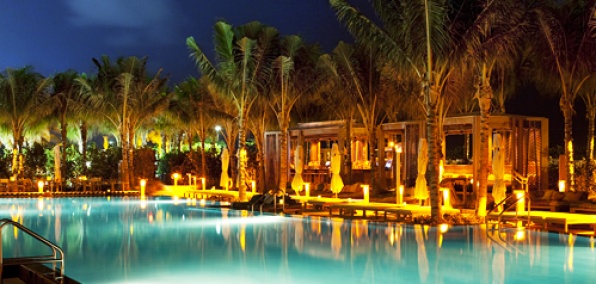 Today we're getting right to the point and throwing out some simple thoughts.

A pool. The sun. Champagne. And in case you missed it: a pool.

You'll find all of the above at the VIP Pool at the W South Beach, a secret watering hole accepting daylong reservations as of now.

Generally, you're pretty good at sharing, but one glimpse of this clandestine azure stunner and you may suddenly feel a wave of selfishness. Originally meant only for visiting celebs, the pool is now open to all guests of the hotel who want to reserve the spot for the day. (More on that in a minute.) There's no fee, no minimum party size, and yes—you can have magnums of champagne and mahi-mahi tacos brought in from the W's other pool bar. (Remember to wait 30 minutes.)

It works like this: you book a room. You contact the concierge to reserve the 48-foot pool located behind tall hedges at the northern edge of the hotel's backyard. You don your best aviators, gather up the Beyoncé to your Jay-Z and settle in for a day of swimsuited leisure, nicely secluded from the crowds at the main pool.

And the next time you're celebrating something special—your birthday, a recent business coup, meeting the Argentine women's polo team in the elevator—you'll reserve this aquatic den for some much-deserved covert frolicking.

Your favorite kind of frolicking.