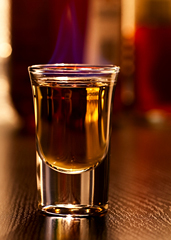 Wipe the schedule clear.
Unplug the phones. Cancel your membership on Celebrity eHarmony.
For the next year, you're going to be busy. Tequila busy.
Because today we bring word of the
Tequila Club at Papagayo
, possibly the city's first rewards program in which you earn lavish benefits from drinking tequila, now available.
Think of this as the boozy cousin to those little cards you get at the dry cleaner's, only instead of finely pressed shirts, this one tracks your blue agave intake (finally).
First thing you'll want to do is head into Papagayo, mention the club and create your club card, which will stay behind the bar and have your name on it (tip: don't go with "Captain Amazing").
From that point on, you'll have exactly one year to dip into their massive 150+ tequila reserve, either in cocktail, margarita or shot form. Each time you consume one of their Mexican beauties, they'll check that tequila off your card. When you hit 25 different tequilas, you'll receive a dinner for two. At 50, you'll be served a dinner for four.
And if you happen to reach 100 in the next year, you'll be bestowed a Mexican feast for you and nine friends, a private tasting in the tequila room and your name on a plaque.
Just don't try to do it in one weekend.