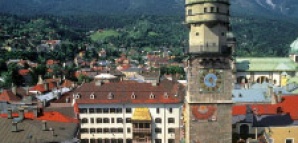 There's nothing like soccer—sorry, football—to get Europe's blood pumping. And with the Euro Cup just a month away (it's like the World Cup, only more exclusive), a little village in the Alps is readying itself for a piece of the football frenzy—and reemerging as a host city of international repute.
The name: Innsbruck.
A classic resort destination and two-time winter Olympics locale, Innsbruck is no stranger to the international spotlight (or the après-ski party). But with recent architectural triumphs, sexed-up hotels and enough adventure sports to out-adrenaline its legendary skiing, the town now has just as much to offer when it's thawed.
In other words, even if you hate soccer, you'll like this place. Nestled in a deep Alpine valley, Innsbruck is your perfect base from which to paraglide between mountains, tandem
skydive
, bobsled or
bungee
600 feet from the Europa Bridge. Or, for the panoramic views without the liability waivers, catch one of Innsbruck's famed cable cars from the brand new, space age-y Nordkettenbahn Station.
At night, check into the palatial five-star
Grand Hotel Europa
, just emerging from an extensive renovation, and reserve a table at hotspot restaurant
Pavillion
, housed in a glass cube.
Better yet, make that two tables. We're sure you'll be making friends.