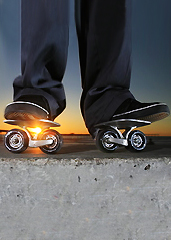 Skateboarding. Roller-skating. Farrah Fawcett posters.
But enough about this weekend—let's talk about your teenage years.
Every once in a while, you get nostalgic for those simpler times and want to rekindle that carefree spirit.
But let's amp up the complexity a bit... and leave Farrah behind (sorry)...
Which leads us to
Freeline Skates
, a challenging combination of boardsports and in-line skating, now available at Fritz's Miami Beach.
Imagine what you'd get if Tony Hawk went into business with Rollergirl from
Boogie Nights
: essentially, individual skateboards for your feet. Two small metal plates with grip material on top, and two longboard wheels underneath.
The sport's been building underground buzz for a while, but it's finally ready for your discerning approval. You'll want to stash these in your beach bag next time you need to make a quick run from a boozy brunch at La Piaggia to supervise a mermaid-themed photo shoot on the beach. Or when that roller-derby-obsessed date suggests you race on the beach path in Lummus Park.
As you might guess, there's a steep learning curve, so give yourself at least a week to master the maneuvers. But once you get the hang of it, you'll be carving S-curves and dominating hills with the verve of a young Travolta.
With better hair, of course.