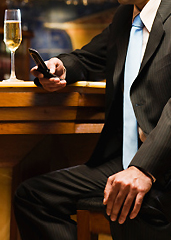 Your generosity knows no bounds.
You're always quick with a foot massage. You've been known to give crowded karaoke bars the gift of song. (Specifically, "Smooth Criminal.") And you certainly have no problem buying a round... even when the round in question happens to be in another city.
Introducing
GiftRocket
, the latest innovation in drink-buying technology, available now.
It's the high-tech equivalent of leaving an envelope full of cash at the bar with your friend's name on it. (You know, that old trick.) Except instead of an envelope, it's a PayPal account, unlocked whenever your friend's phone confirms he's at the bar.
So the next time you owe your Krav Maga instructor a drink or two from the previous night's revelry—and you've inconveniently absconded to the Bahamas for the week—you can send the dough to GiftRocket, just like buying something online. The next step: your pal gets an email telling him there's $23 waiting for him at the bar down the street. Once he gets there, he'll click on a link in the email and his phone's GPS will confirm he's really there. (The penalty if he's wrong: an error message. Also, indelible shame.)
And since GiftRocket's pulling their GPS coordinates from a well-known review site, you can make the spot anywhere that has a Web presence—from your friend's office to your extremely well-publicized apartment.
Assuming your friend can get in.