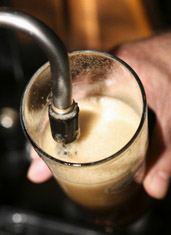 Your week's started.
And given that you're conscious—and given that Thursday is St. Patrick's Day—you've probably thought about beer at least once already.
But you hadn't even dared to dream of a 27,000-square-foot beer mecca.
Well, we're here to tell you: start dreaming...
Introducing
Angel City Brewing
, a massive new Downtown brewery, tasting bar and beer shop, officially opening Thursday.
If you follow the Los Angeles International Beer Competition (it's sort of like the Oscars for beer), you're probably familiar with Angel City, which has been winning awards for years while stocking the beer aisle at your local Gelson's.
And now that they've moved out of Torrance and into a sprawling brewing facility Downtown (always a good move), you and your hops-loving cohorts will be able to while away an afternoon sampling pints of their classics and some constantly changing experimental brews—try the
Belgian Night Train
, a strong ale similar to Chimay.
You'll do this straight from the source, at a counter right on the factory floor, next to a random giant slide whose purpose remains, for now, unclear. (Beer and sliding: nothing could go wrong.)
And once everything's up and running, you'll also find a beer-and-wine shop, and plenty of industrial rooms in which to throw your long-gestating beer-factory gathering.
Think of it as a foam party.