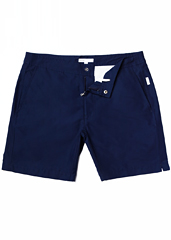 On other shores, your fellow countrymen still struggle with the last vestiges of an unusually cruel winter.
But tomorrow's LA forecast is sunny and 76. So as for you—well, you need a new swimsuit.
Preferably one that'll take you from the beach right to the bar.
Introducing some dapper new swim trunks by
Onia
—practically the only swim trunks we've found that could be called "dapper" with a straight face—available now at Alpha.
Here's the thing with swim trunks. Too long, and you look like a 14-year-old skateboarder named Chip. Too short, and you look like a '70s volleyball player named Hans. It's a delicate operation.
Onia's new Calder collection—in nice, basic, solid colors like red and olive green—finds that middle ground... in the middle of your thigh. Swim in them. Lie by the shore in them. Read to Zoe Saldana from your Kindle in them.
And after you emerge from your second dip in the water—the sun glistening off your six-pack—and someone says the magic word ("margaritas"), you'll throw on a plaid shirt and be ready to go. Your shorts will look like... normal shorts. No wardrobe change needed.
In matters of margaritas, every second counts.
Note:
<a target="_blank" href="http://www.onia.com">Onia</a>, available now in store and online at <a target= "_blank" href="http://www.alpha-man.com">Alpha</a>, 310-855-0775