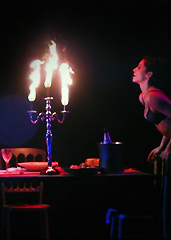 Spring fever. It's coming.
And sure, you could dash away to a hotel made of emeralds, try out shark-powered water-skiing or regular shark-free skiing.
But you've got something more pressing at hand—a grand theater of what might be the most risqué burlesque acts known to man. And it's only a ticket to London away...
Welcome to
The Box Soho
, the British incarnation of New York's infamous underground vaudeville den, now open.
Naturally, there's no sign—just look for the two large, ominous black doors, summon your courage and step inside to witness whatever curiosities and unnatural acts lurk within.
Make your way to the red-curtained theater, settle into your table between Kate Moss and a gypsy accordionist and get comfortable. Things start out innocently enough—a bottle on the table, some sliders, catching up on
Sherlock Holmes 2
. But around midnight, the curtains part to reveal a series of surprise acts with a complete disregard for propriety: anything from scantily clad trapeze tricks to a woman playing music with her... well, let's just say it's probably the most innovative "Dueling Banjos" cover you'll ever witness.
Once the stage acts conclude, make your way up some red-carpeted steps and into the illicit hole-in-the-wall upstairs bar. At 4am, it becomes an exclusive VIP room for the second act, performed on a tiny platform in the corner.
Warning: anything within five feet is considered the "splash zone."