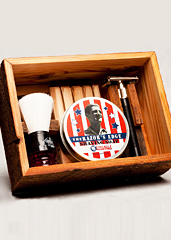 The long march of history. You feel it. You're willing to face it.
Which is convenient, because your face happens to have a rendezvous with history...
Introducing the
Chicago Tenement Deluxe Shaving Kit
, a suite of made-in-Chicago shaving goods housed in handsome, rugged cases built from remnants of this town's toughest neighborhoods.
You're probably familiar with some of this item's backstory: a bovine arsonist burns an entire city to the ground. The city chops down half of Wisconsin to rebuild itself. Houses are erected. People move in, people move out. And then, one day, someone says: "Hey, let's put up some condos."
So a few enterprising local soapmakers—modern-day Procters & Gambles, if you will—seize an opportunity. As apartments, warehouses and factories in places like Bridgeport and Back of the Yards are upgraded, they salvage the two-by-fours. After some buffing and sanding to bring out the wood's original grain, suddenly they have what amounts to tiny bungalows for your razor blades.
The kits are loaded with suitably old-school equipment: a shaving brush, a smart-looking safety razor, replacement blades and the company's own
Razor's Edge
shaving soap, made in Bridgeport at a facility that uses renewable energy like solar power.
Which is so far proving cow-resistant.