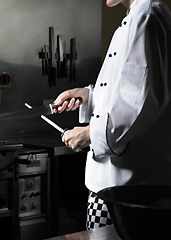 Here we are.
You've barely had time to take off your tuxedo and find a home for your new Oscar (we're thinking the bathroom). And already you're on to your next high-profile gig as The Voice of Wrigley Field.
But first you need to take a break and lie low for a while. Preferably somewhere with mango marshmallows...
Welcome to
Underground Dinners
, a top-secret series of, yes, underground dinners, taking reservations now.
Here's what we can tell you: the dinners happen once every other week. There's room for a dozen adventure-seekers like yourself. The chef earned his stripes working in San Fran. Past meals included chilled avocado soup with mango marshmallows and tableside foie gras service. Oh, and you'll need to know an email address to join—
this should do
.
Here's what we're not quite cleared to tell you: the address or the location, though we can give you a hint (a vintage apartment in Ravenswood). We can't mention the next menu, though you shouldn't be surprised if espresso torrone with Nutella powder makes an appearance. Oh, and we don't know what you'll be drinking...
But that's because it's BYOB.