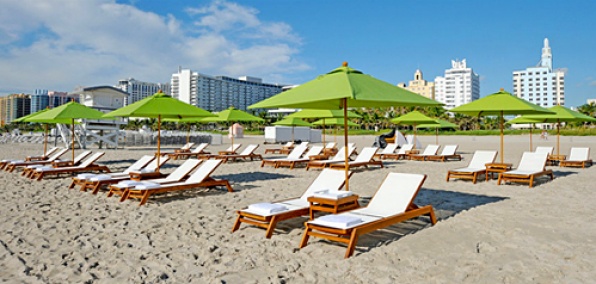 You may have heard: the Season is upon us.

Which means: heavy traffic, long waits at Joe's and an ungodly number of French-Canadians at the Standard pool.

But it also means a chance to soak up rays, breathe in ocean air and hone your impressive sand-castle-building skills.

Here to help: K17 Beach, a new oceanfront club for you to grab some authentic South Beach R&R, now open.

Now, you should know that this club is an offshoot of the Surfcomber. But unlike other beach clubs run by South Beach hotels, this one's open to non-hotel guests at an extremely reasonable rate (think: $20 per day).

You'll want to grab a sun-worshipper and enter the beach at 17th Street, making your way to the cluster of lime-green umbrellas and settling into a bamboo lounger. At this point, you'll slather on some coconut oil and get down to business: namely, doing absolutely nothing.

If you're thirsty, there are cocktails. If you're hungry, there are truffle fries and fried grouper sandwiches. If you're aching, there are masseuses to administer rubdowns.

And in case you're bringing your usual entourage of Scandinavian cruise ship employees, you should be aware that you can also rent a circular daybed, with room for eight.

Might want to bring extra cocoa butter.