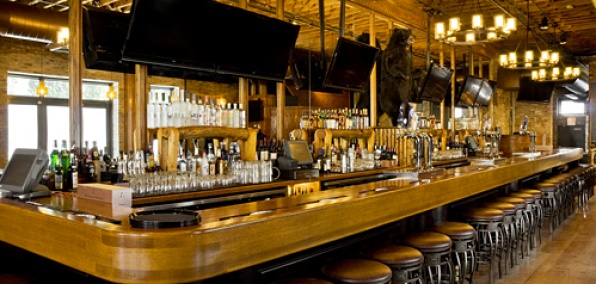 Last night: it was smoky. It was hot. And then things got wild.

All in all, a pretty good template for this weekend. This time, however, invite a few friends to join—you hate to eat an entire boar by yourself.

And that's just what you'll want to do at Frontier, a new West Town tavern with a serious menu of spit-roasted specialties to satisfy you and a group of your most carnivorous friends.

When you walk in, it's all very backwoods Wisconsin. You're greeted by a mounted bear in attack mode behind the bar—which, as you know, is just Wisconsin's way of saying come in and, please, try the duck tacos and craft brew.

This spring, in fact, there will be a full-on beer garden to let you beer away a sunny afternoon. But for now, you'll be just as happy to engage in an evening of good whiskey, venison cheesesteak sandwiches, elk shepherd's pie, bison hanger steaks or just some old-fashioned, Wisconsin-raised beef sliders.

If you're going to make a night of it, call five days in advance to arrange for the animal of your choice—pig, lamb, goat or boar—to be spit-roasted. You and about a dozen of your friends will feast King Henry VIII–style, along with green beans, fingerling potatoes, and johnnycakes.

Henry loved a good johnnycake.