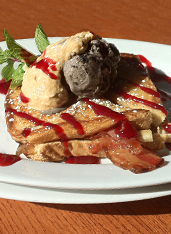 You've had your share of good desserts.
Tarts. Banana splits. Scotch.
But today, we'd like to introduce you to a dessert that looks a little like a sandwich. A sandwich made of chocolate, bacon and Fluff...
Meet the
Chocolate Bacon and Fluff Panini
, an epic dessert sandwich combining your well-documented love of pork with marshmallow and other after-dinner staples, now available at Gargoyles on the Square.
The party starts with a couple of pieces of Texas toast, some fresh banana, crispy thick-cut bacon covered in milk chocolate and peanut butter slathered onto the slices of bread. Not to mention judicious use of butter to griddle the thing to crispy-hot perfection.
You'll want to use a fork to take it down. Less because the whole thing is topped with peanut butter, housemade Fluff, raspberry purée and smoked Oreo ice cream. But more because your date may look askance at a man gripping one of these and consuming it like a jackal tearing apart a fresh kill.
Besides, that's what the meat entrée is for.