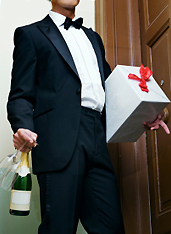 Monday draws near.
Normally, such news is met with a general sense of fear and loathing. Worse is when it's Valentine's Day. Like this Monday.
And if reading that just sent a shiver of "oh god, I totally forgot" up your spine, relax. We got you covered.
Presenting
Valentine's Day Delivery
by Dash Boston
,
your best friend this weekend for getting all manner of V-Day goodies delivered, now taking orders online.
So should you find yourself without the necessary Valentine's Day supplies (you know, bubbly, flowers, the rogue teddy bear), just
check out the menu
from Dash.
Then, pick the appropriate package—everything from six ounces of strawberries with whipped cream at the low end, to the
Platinum Package
at the high end, with 12 fresh-cut, long-stem roses, a bottle of Veuve Clicquot, a teddy bear and a personalized note (tip: work some Whitman in there). Boom. Crisis averted.
On the average, the deliveries take about 45 minutes to reach you, which will be key if you're trying to set up your flat to surprise that slinky stewardess you met on your last trip to Madrid (repeat after us: "Hola, Maria").
Or, if you happen to be willfully ignoring this most Hallmark of holidays, order up the
Flyin' Solo
package, comprised of a sixer of Sam Adams and a 375ml of Jim Beam.
No, it doesn't come with a teddy bear.