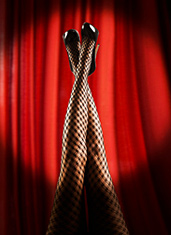 We come to you with a vision of the future.
It's Friday night—well, technically, Saturday morning. You're sipping on a bottle of champagne. While discussing
Inception
with a young woman on a trapeze.
This means you are:
a) at a nightclub
b) at a more gentlemanly kind of club
c) both
Welcome to
Posh Nightclub
, a new nightspot with more than a few gentlemen's-club tendencies, open now.
This place shares a wall with the Crazy Horse III, so you'll rightly expect some crossover. But when you walk inside, you'll see what appears to be an ordinary nightclub: gold-speckled tabletops, bottle-ready booths and a huge dance floor devoted to fully clothed dancing. (Yes, even you must wear clothes.)
But between those booths: go-go platforms, possibly occupied by dancers. And above the dance floor: a scantily clad trapezist descending from the ceiling. And behind the bar: some red velvet curtains.
You'll want to keep an eye on those. Because a few times each night, they'll part to reveal an alcove filled with three Crazy Horse dancers, who'll grace the crowd with five minutes of modern dance before returning to the night. In case of special occasions, the management will even open up the back of that alcove to give you a peek of whatever's happening on stage next door.
Here's a hint: they won't be playing cribbage.