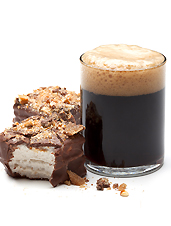 After this week, you've probably given a lot of thought to your winter emergency kit.
But let's start thinking about the important stuff: marshmallows, without which your ration of hot cocoa could be rendered virtually undrinkable.
Introducing
Beer & Pretzel Marshmallows
, an amalgam of beer, chocolate and pretzels conveyed to your mouth via the medium of the marshmallow, available now and henceforth part of any sensible cold-weather survival plan.
At its core, each of these fluffy things is whipped with a generous jigger of Rogue Chocolate Stout. Then, to gild the lily, it's dunked in creamy chocolate. Then, to gild the gilded lily, each marshmallow's sprinkled with
a certain handcrafted beer-pretzel brittle
that you may remember from boozy-candy benders past. In other words, you could pop one in your mouth and call it a day.
But imagine the possibilities on a cold February night. Add a pair of graham crackers and a roaring fire, and these beer-laden marshmallows may just alter the entire s'mores paradigm forever. Or if you just need the comfort of hot chocolate (with a secret little shot of something), plop a few of these into your mug.
You know how to make Swiss Miss happy.