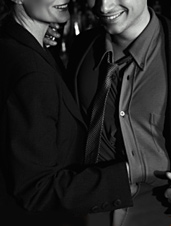 Living in the Land of Startups, we've got a knack for sussing out potential.
But that entrepreneurial aptitude would be wasted if we couldn't extend it to the realm of social endeavors.
So let us tell you about a night in the near future...
Introducing the world's first
Puma Party for Cougars-in-Training
, the inaugural gathering of females on the verge of cougardom and the cubs who adore them, happening two weeks from Friday on the waterfront at Neptune's Palace.
Now, in case you're not entirely sure what constitutes a puma, the rough delineation is the 40-year mark—sub-40, and she's a puma.
If you've been to
past cougar bashes
(or just happened to stumble upon a den), you'll notice a less formal slant to the night's events—heavy on the cocktails and DJs, and noticeably sans keynote speeches and leopard-print attire.
And not only is this the first ever Puma Party, but it also marks the crowning of the very first Miss Puma. Since every cub gets a vote, we recommend conducting your polling diligently, because as part of her prize, she'll win a week's stay in Jamaica and get to attend International Cougar Week.
We hear Jamaica's nice this time of year.