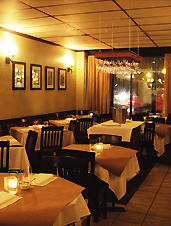 Years from now, you're going to look back on tonight. People will want to know how you survived.
You'll say you think it had something to do with your ability to stock up on the right supplies and make wise decisions when you have to.
Translation: you made reservations for dinner—and brought your own wine.
Introducing
Prix Fixe
, a cozy boîte in Lincoln Square intent on getting you all the European bistro classics you need on snowy nights.
It's the kind of place to keep in mind for a low-key night of European delights. The space is rustic—as much as any space off Western Avenue can be—and filled with warm tones, candlelit tables and a rack of swinging wine glasses over the dining room (but for now it's BYOB, so bring your favorite vino to make it fully functional).
The chef is a cooking school instructor, and he makes
the ever-changing menu
easy to navigate: $35 gets you three courses—choose your appetizer, entrée and dessert. Start with something like goat cheese gnocchi, then move on to risotto or pan-fried chicken, before a dessert of either maple french toast with black pepper caramel or a warm molten chocolate cake.
Stick it in your pocket to keep you warm on the way home.