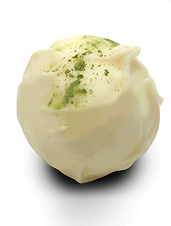 You're a man of many dreams.
One of which is to have Sophie Marceau and a hot Japanese stewardess over to your ski condo in Killington for some Franco-Japanese, um, fusion.
Well, we're happy to report... we have the next best thing.
Presenting
Wasabi Truffles
, artisanal white chocolates that combine the spicy punch of wasabi with the Euro-fanciness of truffles, now available online.
If you've ever finished a platter of sushi, looked at the leftover wad of wasabi taunting you on the plate and thought, "This would go great with a ganache-filled sweet treat," you've pretty much hit the jackpot here.
So should the day actually arrive when the aforementioned dream scenario goes down, and you find yourself needing something to appeal to both cultures while you break out the guitar (for your rendition of "I Gave My Love a Cherry"), just pull these out.
When you bite in, you'll notice the dense sweetness of the white chocolate and ganache. You'll also notice a spicy blast from the wasabi powder. And since they come in a box of four, there'll be enough for each of you to savor one, and then a final bonus truffle for your guests to split.
Of course, you'll need something to wash these down.
Luckily, you keep Bordeaux and sake on hand for just this sort of occasion.