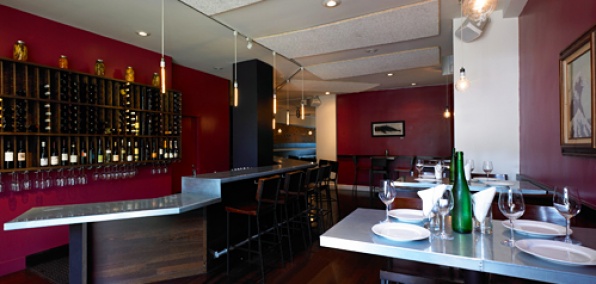 When January is warmer than June, something's up.

And while our snowbound brethren to the east may disagree, we wouldn't mind for this to last.

Of course, the only thing about having summer in winter is that it makes a person thirstier...

Welcome Pause Wine Bar, a sleek, thirst-quenching wine den quietly open now on Market.

You normally know this stretch of Market as a desert where the lone oasis is Zuni (and its roast chicken for two). But this filament-lit, minimalist spot is here when you're looking for something else for two—say, something of the liquid sort.

You'll want to start at the long, angled zinc bar with some sparkling blanc de blancs. After which you'll be ready to explore the wide range of organic wines—with a heavy slant toward new-world styles like Dry Creek's Madame Preston, as well as a few old-world Rhône blends like Remeage from France.

And while it's a wine bar first, you'll see that the food menu extends beyond the expected cheese plate and reveals full-on dinner-grade options. So as the night progresses, you can slip into the deuce all the way in back, under the cork wall, and order anything from oysters to small plates like Roasted Trout with Carrot Spaetzle or Spicy Thai Chile Patatas Bravas.

Everything tastes better under a cork wall.