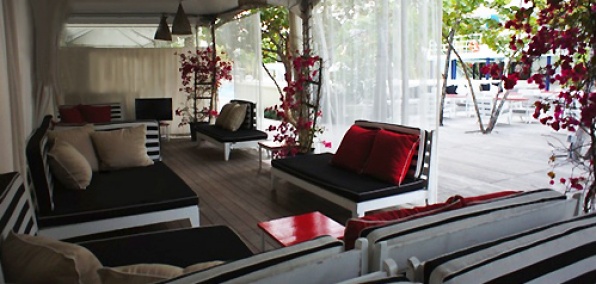 You like models.
And not just because you used to be one.
Or because you used to be married to Elle Macpherson.
No, you like them on a spiritual level. And a swimsuit level.
So we think you'll appreciate this: presenting
Model Lounge Miami
, the city's new HQ for leggy and photogenic females, now open seven days a week in South Beach.
You may recall the
mythic model lounge from last year
. They've changed locations this time around, opting for more spacious digs at the Raleigh. But the concept is the same: near the pool, there's a cabana where only female models are allowed, where they can relax with PowerBars, laptops and gratis bikinis (all of life's essentials).
What this means for you: for starters, you may want to begin having more lunches, brunches and midday mojito-fueled strategy sessions at the hotel's outdoor restaurant, where you're likely to catch ingenues air-kissing over chopped salads and cups of ice.
And if you're the type of person who likes to run into blue-eyed Brazilians on your morning swim, you can book a room at the hotel, granting you access to its pool and unbridled model cavorting.
It's the best kind of cavorting.