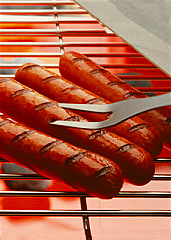 The hot dog and the kangaroo.
It's more than just a great title for a buddy picture. Very soon, it will also happen to be your lunch. Let us explain.
Meet
Westminster Hot Dog
, a new sausage emporium opening today in the Loop, aiming to indulge your noontime demand for the delicious, the exotic and the mustard-slathered.
It's located in a humble storefront near the Wells Street "L" stop, so you'll find that, for right now at least, the space is a little spare. A few counter seats, Dijon mustard yellow walls (soon to feature local artwork) and a chalkboard with the standards. And that's fine. You're not one to argue with a little neon relish on your Chicago-style dog.
But by the time you get to the
Steak Fromage
(a rib eye steak sausage with a cabernet reduction and boursin cheese sauce), the
Reuben
(corned beef sausage with sauerkraut and Thousand Island) or the
Jalapeño Bacon
(with chipotle-cilantro mayo and queso fresco), you'll begin to appreciate this little joint's ambition.
In fact, when things get settled here, they'll start rolling out the big guns: a sausage of the week, plus a rotating lineup that could feature anything from kangaroo, lobster, elk, lamb, bison or antelope to alligator.
The Cajun version of Vienna beef.