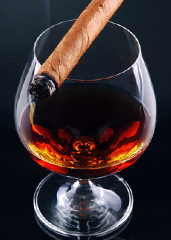 It's a simple equation around here.
For every necessity in your life, you have an expert.
For your vino needs, there's a sommelier. For your threads, there's a Savile Row vet. For your yachting requirements, there's the guy who secured the vessel for "I'm on a Boat."
And now, for your cigars, there's someone we'd like you to meet...
Say hello to the
Cigar Concierge
, a stogie wizard who will gladly curate your next smoke break, now available.
First of all, you'll need to know his name. It's Robert. He's CEO of Hotel Humidor, cigar supplier to hotels like Four Seasons and One Bal Harbour. So it's not like the guy doesn't have access to over 150 brands hailing from Honduras, Nicaragua and the Dominican. Also, he's been smoking since he was 14. (Bad for his NBA dreams; good for you.)
So you'll call up Robert and tell him what you need—whether you want to smoke before or after dinner, what you'd like to drink with it and what kinds of food you'll be eating. Based on that data, he'll put together a selection that can range from thick, Cuban-like robustos to smaller, cigarette-like petit coronas.
And in case you want to go big, he can also help you organize a cigar dinner or tasting party.
In concert with your bounce house guy, obviously.