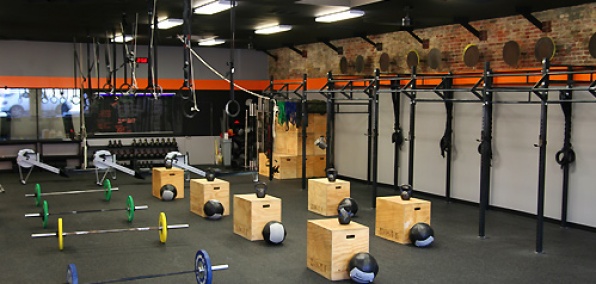 Gyms in LA have gotten a little fancy. Designer wrist-curl machines. Après-bench-press martinis. Attendants spritzing you with 68.3-degree Indonesian rainwater.

But you―you'd rather put an elastic band around your waist and drag a really big man across a parking lot. That's a workout.

Introducing Brick Sport Performance Training, a back-to-basics new gym co-owned by a 17-time national and international martial arts champ, now open in WeHo.

Step inside, and you won't see any fancy machines or organic smoothie bars. You'll see a big open floor, some weights and some brick walls. If you're looking to start powerlifting the weight of a medium refrigerator over your head, show up for the introductory CrossFit class.

But if you're just looking to burn off last night's steakhouse visit, try the Speed-X class―it's an intense hour-long circuit of sprints, box jumps and lobster crawls. And, yes, at some point you might be taken out to the parking lot, where you'll step into a rubber band, a man will pull hard on it, and you'll try to run. If he likes you, he'll even yell at you a little. (He means well.)

The jujitsu champ is also teaching some cardio kickboxing in the back―you may not get a championship ring out of it, but you've been wanting to improve your spin kicks.

You've got to visit the accounting department later.