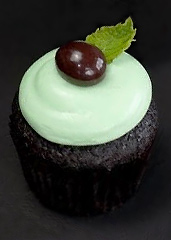 Life is good. You're not complaining.
But... sometimes you start to wonder if it could be better. You wonder if there's someone out there for you... specifically, someone with a big whoopie pie.
Well, life just got better.
Introducing
Sweet Ride
, a new food truck in town set to roll this Friday with a cargo hold filled with gooey whoopie pies, light mousses and silky banana pudding.
After you
track down the truck
, you'll go outside and look for the big pink retrofitted van selling pudding studded with Nilla Wafers. There shouldn't be too many.
Because pudding alone doesn't make a meal, there's also marshmallow-stuffed chocolate whoopie pies and chocolate mousse spiked with orange liqueur.
And sure, you can also find cupcakes here—they're sold in three-piece mini cupcake sets, with assortments of flavors including red velvet, milk chocolate and sweet potato with a maple cream cheese frosting. There's also something called
Cake Pops
—essentially cupcakes on a stick, if you're looking for a twist.
Or if you're just looking for a stick that has a cupcake on it.