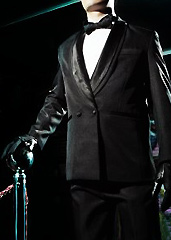 You're no stranger to the charms of a top-notch tailor.
You're also well-acquainted with the pleasures of making it rain champagne at 3am while the sweet sounds of early Gaga play in the background.
But except for that epic night with an apprentice seamstress in Hong Kong, you've never combined the two.
Until now.
Welcome to
Savile Row
, a members-only nightclub disguised as the world's most raucous tailoring shop, soft-open now at the Luxor.
First things first: there's no actual tailor, but that should only be an issue if you split your pants while overzealously whipping your hair.
From afar, it looks less like a nightclub than an English manor circa 1855—gas lamps and a 15-foot-tall hedge guide you to the door. Then you'll head through a brick alley into an old-world dining room outfitted with a 15-person banquet table, usually equipped with some variety of champagne-filled punch bowl, mixed at the table.
Make your way through one last door in the back and you'll find the main room, where a DJ booth is surrounded by banquette tables made from old Singer sewing machines. (Repair a button, if you must.) Oh, and to get inside, you'll need a membership or an invite, which means charming a member into either recommending you or giving you a one-night pass.
Or failing that, a grappling hook.