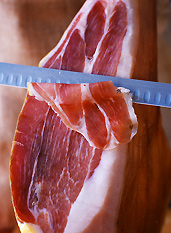 We don't want you to get ahead of yourself, but whatever happens between the Bears and the Seahawks on Sunday, one thing remains...
You need to start planning that annual Super Bowl melee of yours.
To that end, we introduce
The Butcher & Larder
, a new meat guy able to supply you with all the smoky ribs, housemade brats and juicy steaks you demand, opening this week in Nobel Square.
There's nothing terribly spectacular about the interior here, unless you have a thing for precision band saws, big smokers, antique pig sculptures and a few sharp implements on the wall that look like they came from the set of
Saw XIV: 3D
.
But the eponymous butcher is half of the husband and wife team who started the recently shuttered Mado, famous for its way with housemade sausages and pâtés using only ingredients from local farms. This refines the concept by dispensing with tables, chairs, waiters and anything that looks like a vegetable.
There will be a small case with select cuts in front, but seeing as you're a stickler about having your rib eye and cut-from-a-slab bacon just the way you want it (absurdly thick), talk to the butcher. And if you need something immediately, they'll have a sandwich or two available, announced every day
via Twitter
.
Yes, they'll tweet your meat.