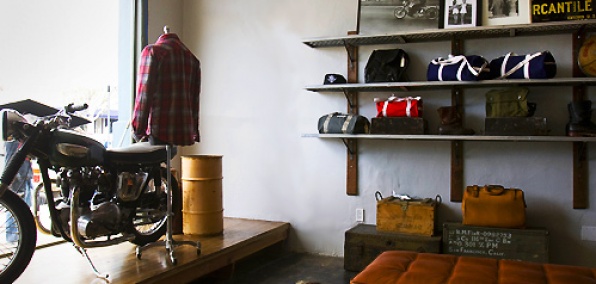 With all due respect to the Bieber, you wouldn't call him your style icon. (Yet.)

When someone's checking out your clothes, you'd rather they be reminded of yesterday's true greats. Newman. McQueen. Murray.

Good news: there's a new shop in town to help you channel those legends with some classic-looking chinos, chambray and maybe a motorcycle―welcome to General Quarters, now open across the street from American Rag on La Brea.

Just keep an eye out for the gleaming bike in the front window―that would be a Triumph TR6, which is the same model Steve McQueen rode around in The Great Escape. And yes, it's for sale if you want it (price: $6,500).

But if you're just looking for a bit of all-American-ness to wear to the creative agency or the beer bar, they've got classic-looking (and reasonably priced) tees, Gant Rugger shirts and Life/After/Denim sweaters.

There's also some actual vintage. Think: Navy chambrays, racing gloves, duffel bags and even a few signal flags, used by WWII-era ships to identify themselves and their intentions.

Might come in handy at that beer bar.