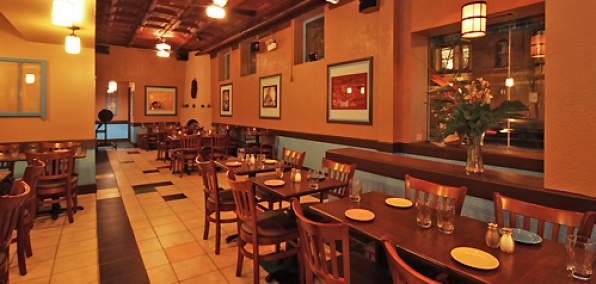 To make it through these frigid, snowy nights, all you need is your trusty Navajo blanket, a will to survive and something smothered in thick, green chile gravy.
Preferably your dinner.
Here to help you test that theory is
Abiquiu Cafe
, a cozy Lakeview chile shack providing fiery succor on these snowy Chicago nights.
Think of this as a snug little New Mexican lodge, equipped with its own chef. It's got the requisite decor, after all: Day of the Dead art, black-and-white photography from Taos, turquoise walls and a faux adobe fireplace. It's like Ralph Lauren in the '80s, but with better gravy.
You'll begin dinner just like you think you should at any respectable chile shack: by shaking off the cold with
a bowl of green Anaheim, Hatch or poblano chiles
—they're using seasonal chiles here—served with tortillas.
But since the motto here is "Get smothered"—and you're never one to ignore a suggestive motto—soon you'll be testing tamales, burritos and chile rellenos drenched in any of six kinds of sauce. One example: spicy green chile, thick and chunky with pork swimming in a Serrano-chile gravy.
They'll be BYOB for a while, so you may want to remember to bring cold beer, or maybe something stronger to warm your toes. We're thinking tequila.
But, tonight, mukluks are fine, too.