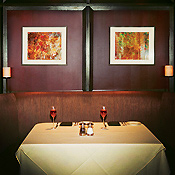 Table 41, Benny's Chop House
Normally, you'd consider lobster tails and two-pound porterhouses ripe for conspicuous consumption. But this spot's more like a romantic fortress—a secluded two-top outfitted with high walls. Which might come in handy once the bubbly kicks in.

Why it's right: Your date likes to eat her two-pound steaks in private.