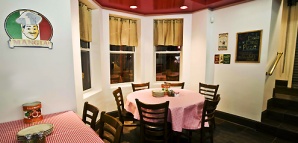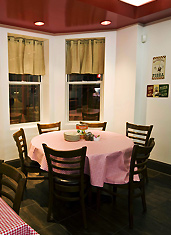 After a lifetime of careful study, let's review what you know about thin-crust pizza.
It's delicious. It's round. And... well, that about covers it. But there have been recent developments. One of those two things is about to change.
Introducing
Dough Boys
, now open in Little Italy and about to change the way you think about pizza. Hint: you'll need a yardstick.
This is from the team behind the Purple Pig and Davanti Enoteca, who are on a bit of a bender when it comes to opening new places right now. (They opened a place in St. Charles, and soon will open a spot next door to Dough Boys.)
But this is a simple, tiny basement shop. There's no brick oven hand-forged from Mount Vesuvius or anything crazy. You'll probably make this your go-to pickup place—though a word of warning: make sure you have a party waiting for you when you get home.
The specialty is the type of thin-crust pies that made the South Side famous, plus stuffed pizza and sandwiches chock-full of all manner of thinly sliced Italian meats.
But when you come to the
Pizza al Metro
, a giant three-foot-long rectangle of a pizza, you'll have found what you're looking for. They have your usual favorite toppings, plus a few clever ones like meatballs.
Yes, the meatball-pizza barrier has been broken.