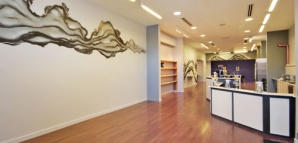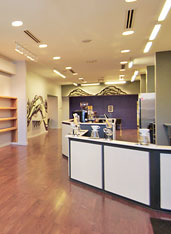 There's art, and then there's science. These, of course, are completely separate things—never let anyone tell you anything different.
Unless they happen to be making you coffee.
Introducing:
Dark Cloud
, slated to open early next week, perhaps the most ingenious melding of artistic vision and rigorous scientific methodology ever employed to help you stay awake during your next 8am conference call.
Now, we know you're no stranger to this magical beverage, so you'll immediately feel at home when walk into a bright, modern space with graffiti on the wall (intentional, we assure you) and find a rotating lineup of familiar roasters on hand—Intelligentsia, Alterra from Milwaukee, etc. Each cup of coffee is brewed by hand... though at this point in your coffee-drinking life, you expect that.
But when the barista turns on a small Bunsen burner-like device, and your coffee starts pumping through an upside-down glass bulb—basically the Japanese answer to a French press—things start to get interesting. Then they crank up the Slayer—a hand-built beast of an espresso machine giving baristas exceptional flavor control—and before you know it, you suddenly have the power to continue your Christmas shopping.
Oh, and you should know there's no wifi here, but on Friday nights, they hold "cuppings"—basically free coffee tastings.
So, yes, you'll be fully wired.