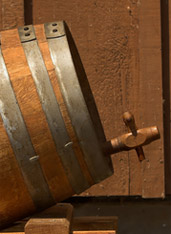 You've got nothing against bars.
They're great for camaraderie, small talk and the occasional high-stakes thumb-wrestling match.
But sometimes you want to stay in, bring all your pals to your place and crack open a few Oregon-brewed stouts.
Just one problem: your fridge contains no Oregon-brewed stouts.
Which is why we'd like you to meet
Yo Beer Guys
, a home-delivery operation now ready to haul hundreds of microbrews and kegs straight to your door.
So let's say tonight is like your typical Wednesday night. Meaning, you're inviting the Venezuelan women's volleyball team over to watch a little NBA, talk Eastern philosophy and maybe cap off the evening with a pillow fight. And you think you could use a keg of South American beer to get everyone on the same page.
You'll hop online, order up
one of their 273 kegs
in seconds, and they'll deliver it to your place along with a keg container, 30 pounds of ice, plastic cups and a three-port "octopus" tap that pours three beers at once (you've always wanted to try a beer threesome). They'll even swing back to pick it all up for you.
And if you had something a little more intimate in mind, they've also got
more than a hundred beers
available by the bottle. For the holidays, this includes Rogue Brewery's Santa's Private Reserve.
We didn't know Santa had a private reserve either.