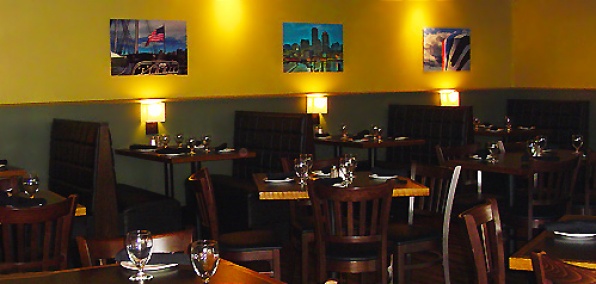 You come to us for many reasons.
Some
are fun
. Others,
necessary
. And once in a while, it's just for
the midgets
.
But sometimes you come to us because all you want is a monstrous platter of comfort food. Ribs, let's say. In Hyde Park, to say a little more.
Welcome to
Annabelle's Restaurant
, your new refuge for ribs, pot roasts and shepherd's pies when lost in the wilds of Hyde Park, now open.
So let's say you find yourself heading to some secret out-of-the-way house party a modeling agency is throwing in your honor in Hyde Park (stay with us here). Suddenly, and without warning, the mixture of anticipation, frustration and a growling stomach puts the image of heaping plates of
Chicken and Waffles
into your head (cut in between scenes of tequila shots with leggy beauties).
When that happens, you'll just recalibrate your GPS and grab a seat at the bar, and by the time the bartender is done pouring your pint of craft beer (Wachusett Blueberry, Session Black, Hop Devil), you'll be ready to bark out orders for
Chicken Pot Pie
,
Bacon Mac and Cheese
and even their
Fish and Chips
made using locally caught cod (you hate from-far-away cod pieces).
Then again, you could always just go for the aged 16-ounce
Cowboy Steak
, egregiously slathered in peppercorn blue cheese butter.
If anything screams "cowboy," it's peppercorn blue cheese.