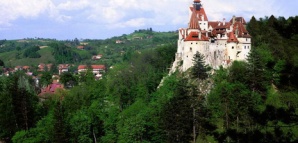 Yes, the recent, ever-declining dollar-euro relationship has put a damper on your regular European jaunts.

So consider setting your sights on more undiscovered parts of Europe—say, heading for the decadent, post-communist charm of Romania.

Romania's discreet charms are quickly becoming discovered since it joined the EU last year. Try Bucharest for a break from your jaded European city stays—clubs are tucked down cobbled streets filled with roaming dogs and gangs of kids. Rave bars sit alongside traditional cafes, gypsy bands play in beer gardens. The uber-luxe Carol Parc Hotel will provide a refuge from the scene with its deluxe suites, plasmas and Bulgari amenities.

To get out of the city, head to the "Romanian Riviera," gorgeous sandy beaches that stretch from the Danube along the Black Sea. Of course, a visit to Romania isn't complete without stopping in the quaint medieval towns of Transylvania and visiting Bran Castle (home of Dracula himself).

With locales like this, Romanians have learned how to drink. For a taste, try the 120-proof palinca, which should keep you from seeing straight through the end of your trip. Top it off with some local fare like hetvezer tokany (minced beef with spicy sauce and dumplings), and you'll be singing along with the gypsies.

And toasting to the fact that you'll have enough euro leftover for another bottle.