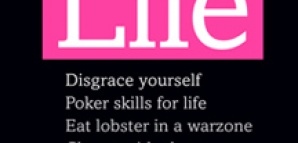 Respect for tradition is important, but occasionally you find yourself in situations that are decidedly...untraditional.

Thankfully, you can now gracefully navigate through life's less predictable and more sinister moments with a little assistance from A Hedonist's Guide to Life.

Divided into seven categories from "Sex" to "Trouble," the book's 75 essays address a wide spectrum of indulgences, from the finer points of a properly lubricated three-hour lunch to appropriate conduct at an orgy to helpful tips for prison survival. (In case you missed the first rule of GQ contributor Martin Deeson's cheery essay on lawbreaking—"Don't get caught.")

Since the book originated in England, you can expect the occasional Oscar Wilde anecdote (in "Party SOS: How to Rescue a Shite Night") and Blur reference (in "Your Life Will Be Better if You Play Guitar"). You can also expect more mannered passages to balance out some of the aforementioned disreputability—a hedonist's life, according to this to me, should also involve mischievous teetotalism, guerrilla gardening and that true paean to a life of unabashed gusto...golf.

You're wild like that.