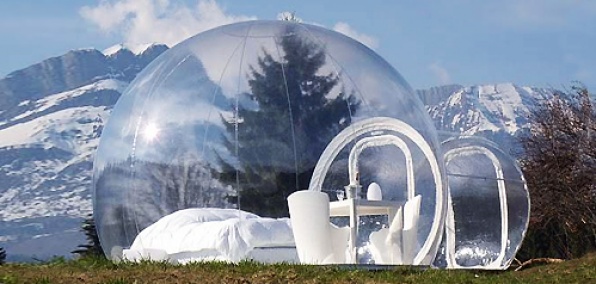 You've done the French villa thing—the wines, the burgundy sunsets, the saucy locals—and you're not complaining.

But lately, you've been yearning for something a little more futuristic. More transparent. More…inflatable.

Introducing CristalBubble, bringing palatial plastic bubbles to the south of France, now taking reservations.

Yes, a bubble. Basically, you'll be getting a blow-up, see-through villa situated in the French landscape of your choosing―like if Bubble Boy had a passport and a taste for only the finest Côtes du Rhône. It'll be inflated to 13 feet across and decked out with a king-size bed, a spaceship-style entrance tube and a fan to keep the inside well-ventilated. There's even an adjoining bubble if you decide you need servant's quarters. (You couldn't just leave Jacques at home.)

As for your surroundings, the CristalBubble folks have friends with spare patches of grass throughout the foothills west of Mont Blanc and a pine forest outside South Isere. (Spring for the treetop version of the bubble here, and they'll set you up twenty feet off the ground.) But our personal recommendation might be a leisurely stay at Bagheera Naturist, a clothing-optional beach in Corsica…

Just remember the view goes both ways.