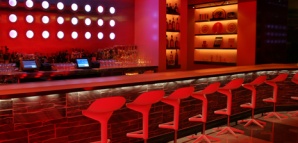 Breakfast is for quitters.
Unless, of course, it involves the indulgence (read: medicine) of an expert Bloody Mary.
Better yet: the Mirage's new choose-your-own-ingredients
Bloody Mary Menu
.
Before you hit the Mirage's just opened
Bare Pool
, celebrate your hangover and improve your overall outlook with a stop by The Beatles Revolution Lounge, a shrine to the institution that is hair of the dog. (And one of the few ways to ensure that you'll make it to the party before sunset.)
At the lounge's Abbey Road Bar, often overlooked during the very un-Vegas hours of noon to 6 p.m., the obliging bartenders will present you with a detailed menu of dizzying ingredient options for just one single drink item: the venerable customized Bloody Mary. Begin with your base liquor selection from 10 vodkas; add a choice of either Clamato, tomato or V8 juice. Then there's the question of seasonings: East Coasters may prefer Old Bay to cayenne pepper and horseradish to the pedestrian Worcestershire—thrill seekers, think wasabi. And your work here still isn't done until you've selected your garnish, ranging from the tame (celery, olive, lemon wedge) to the irreverent (pickled asparagus, carrots, green beans and Tomolives).
We recommend outlandish. Tame never really suited you anyway.