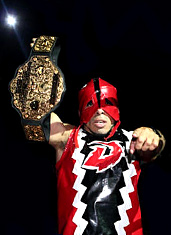 It's Tuesday.
The skies are ash gray and the air bites with a wintry chill. The weekend: a millennia away.
So we're thinking you need some sunshine* in your life ASAP. Tonight.
(*Sunshine = midgets wrestling and cheap beer.)
Presenting
The Great American Small Brawl
, an evening of live music, full-bar drinking and the majestic wonderment that is midget wrestling, going down tonight at the Villa Victoria Center for the Arts.
First off, before anyone beats us to the punch: yes, this is weird. We didn't invent it, and we only half condone it. But it's out there, and you should know about it, and here's why: the first hour there'll be $3 PBRs, a full cash bar, a DJ and a live rock band (sadly, the musicians are full size).
You'll then turn your gaze to the canvas mat for the violent acrobatic and grappling talents from the
Micro Wrestling Federation
(think: the WWE, but half-pint edition). With bruising mini-on-mini matches, your dreams of seeing Meatball, a 4′ 6″, 275-pound midget (known as the Andre the Giant of Micro Wrestling), take on adversaries with names like Maniac Matt, Short Dawg and J-Mazing will finally be realized.
Along with your "so there I was at a midget wrestling match" stories.