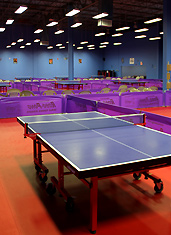 This weekend's cold front has got you thinking about indoor activities.
You know, the usual. Watching football. Reading Russian novels. Playing ping-pong against robots...
Introducing the
Broward Table Tennis Club
, a huge indoor playground for epic ping-pong battles, now open in a warehouse in Dania Beach.
This is, essentially, what the Chinese Table Tennis Federation would look like if it were designed by Prince. To get to it, you'll make the half-hour drive to an industrial park off US-1 and Stirling Road, where you'll find a gleaming space replete with 16 blue Olympic-grade tables, purple divider walls and a padded red floor.
They'll have balls and paddles for you there—so all you need is your table-tennis warm-up suit, goggles, knee pads, wrist guards, mouthpiece, cup, tank top and signature eight-inch gym shorts—and if you need a break between games against ex-pros from the Far East, there's also a lounge area and a weight room (tip: work the pecs).
Of course, some days there won't be anybody in the gym who can handle your forehand. So for those times, you'll want to head over to the Newgy, one of two robots at the facility that will pump balls your way like a baseball pitching machine, sending you all manner of spinning shots (top, back, side) and offering you a surprisingly grueling workout.
You know what they say: no robot ping-pong session, no gain...