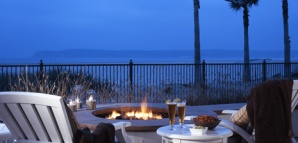 We love the city, but let's face it, we love leaving it even more. Hence GetOut of Dodge, which periodically hooks you up with the best weekendgetaways just a short skip away. Get going...
In life (and in 120-year-old hotels) there's always room for improvement.
Baskin the improvements $150 million can buy you at
BeachVillage
, the new hotel-within-a-hotel at San Diego's legendary Hotel del Coronado.
Just steps off the sand, the new enclave already feels like it's been around forever (in a good way). In the cottage or villa of your choice (by which we mean the
prime three-bedroom suite
), you'll unwind amid a lolling series of flat-screens, alfresco walled-in hot tubs and leisurely meals from your gourmet-friendly kitchen, pre-stocked to your specifications before your arrival. (There by coming closer to your definition of room service.)
This new cluster of seclusion has its own entrance and concierge, but still employs the expertise—and giant pocketbook—of the 120-year-old Hotel del Coronado, where you once would've seen Clark Gable on the beach and Lauren Bacall by the pool. In addition to bankrolling the Village, the recent cash flush also birthed a giant spa and ENO, a tasting room devoted solely to the culinary trifecta of cheese, chocolate and wine.
Your presence would no doubt also represent an improvement.