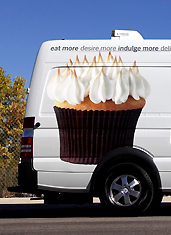 Mondays can be rough. Awful. Gut-wrenching. Frustrating.
So right about now, we're sensing you need some help. In cupcake form. And it better have some bourbon in it.
Here to the rescue:
The More Mobile
, a tricked-out Mercedes van, which right at this very moment is cruising the town's wide boulevards, narrow side streets, proud avenues and shady alleys, pulling over just long enough to dispense its confections to anyone in need of a maple-pecan-bourbon cupcake fix to get through the next few hours.
As you know, the food-dispensing truck phenomenon is this town's latest culinary obsession. And the cupcake thing is apparently still going strong. (We're pretty sure the bourbon is helping.) So you probably know how the routine works: when you feel your reserves are running low, you'll
log on to Twitter
and get the itinerary for the day. When the truck's in a neighborhood near you, you'll pounce.
This maiden voyage will have flavors like red velvet, chocolate-chocolate, salted caramel and that maple-pecan bourbon. By next week, they will have about a dozen rotating flavors, mirroring the selection of More's Gold Coast shop.
But with more horsepower.