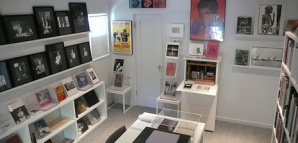 They say you should never judge a book by its cover.

Then again...a one-of-a-kind rarity, a finely bound wonder gleaming atop your coffee table with a true showstopper of a cover, does invite the right kind of judgment. So you might want to bone up at the hidden word-of-mouth bookstore and art gallery LeadApron.

Up a discreet staircase on Robertson Boulevard, you'll find an impressive, photography-heavy collection of first-edition, out-of-print, poignantly inscribed and otherwise rare (read: expensive) books from just about any notable surname you'd care to conjure up. Arbus, Hirst, Aarons, Schnabel, Baldessari and Warhol—alongside the odd found object like, perhaps, a pair of eyeglasses once worn by Jean-Michel Basquiat—all line the small main room, the cozy rear lounge and proprietor Jonathan Brown's adjoining workspace.

Brown, a former neuropsychologist and Hustler magazine writer (aren't they all), often has customers, be they novice buyers or Mario Testino, who assume he's squired the best stuff away in his workspace. But in actuality his prize possession, the crimson Muhammad Ali portrait signed by Warhol, is the first thing you see when you step into the store.

But don't judge a wall by its boxer.