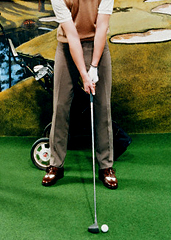 Your golf swing is good, but sometimes good isn't good enough. And this is one of those times.
So get a load of the
TaylorMade Performance Labs
, a swing-improving golf laboratory right out of James Cameron's motion-capturing dreams, now taking reservations for optimizing your golf game.
Here's how it works. First: book a session. Second: get to the International Golf Club in Bolton, where you'll be led to the lab (one of only six in the country, and the only one in the Northeast), pass through the massive steel door that looks like it was pulled off a nuclear submarine and be fitted with a full Motion Analysis Technology suit from head to toe (it's similar to the one you wore for
NBA 2K11
). Third: swing away.
As you hit into a giant net in front of you, the lab gods check out your swing in three dimensions, compare it to over 50,000 recorded swings and use the data to tell you how to decrease your slice, power-up your drives and sink more putts.
And if your clubs are a little beat-up (dominating St Andrews will do that), you can even have them take this data and design you a custom TaylorMade set, shipped from the TaylorMade factory in about two days.
Just don't leave them around your Swedish girlfriend.