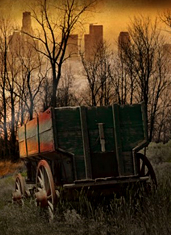 You know how sometimes the best date is a scary movie, when she can't help but grab you and hold tight...
Now picture what's going to happen when you find yourselves in an abandoned zoo in the middle of a dark forest—only to cross paths with some creepy kids and a clown.
Introducing
The Los Angeles Haunted Hayride
, now rolling through Griffith Park until Halloween.
So on a cold, cloudy night sometime soon (look outside—tonight'll work), you'll wind your way into the pitch-black depths of Griffith Park's endless acres. There's a hay-filled wagon waiting, pulled by a tractor, that'll take you past the century-old zoo's long-abandoned cages (hint: they may currently be re-occupied) and deep into parts of the hills you've never seen. And yes, there might at some point be an actor dressed as a terrifying clown who wants, in short, to kill you.
If you're feeling especially sure of your dignity in the face of killer clowns, book a private wagon for two—almost like a romantic horse-drawn carriage, but sort of the opposite. Otherwise, you'll have a flask and about 35 new friends riding with you for moral support.
And once it's over, you can get your bearings (sort of) in a 5,000-square-foot hay maze, or soak up the carnival-ness with a late dinner from some food trucks.
No word on zombie food trucks.