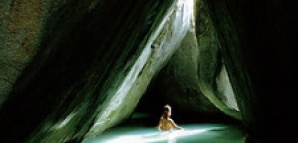 Your days of wet T-shirt contests and body shots are well in the rear view. (Or at least it's been a few weeks.) But around this time in March, spring break fever kicks in, and you're itching to fly south and commence with some good old-fashioned steam-blowing.

Allow us to suggest a slightly more dignified outlet for that migratory instinct: Virgin Gorda, in the British Virgin Islands.

Unlike its more popular/sluttier archipelago-mates, Virgin Gorda has managed to maintain its virtue through the years (we think the name "fat virgin" might have something to do with it). Blessedly lacking traffic lights, Club Med and mid-March crowds, there's nothing to spoil this speck of an island's white sandy beaches and bizarre lava landscape. At the Baths on the southern coast, towering volcanic boulders have created a labyrinth of tidal caves, allowing you to wade through echoing caverns to your own warm-water sanctuary.

For easy access to the virgin sands, check into the five-star Little Dix Bay (go ahead and snicker; we'll wait) a former Rockefeller-owned estate whose palatial villas are just emerging from a five-year facelift. Let your aqua-chauffeur ferry you to otherwise inaccessible beaches, or hop a glass-bottomed cruise of the reefs. After dark, dine a deux on your private beach before breaking into your first complimentary bottle of local rum.

Whatever happens from there, remember to be gentle. This island is still very vulnerable.