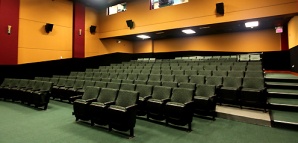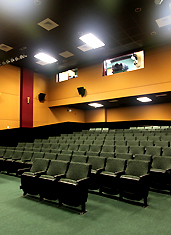 You're no stranger to the pleasures of Hollywood.
You liked
Iron Man 2
. You loved
Inception
. You auditioned for both the John Malkovich role and the horse role in
Secretariat
.
But sometimes you just want a nice indie film. And an even indie-er bottle of beer...
Introducing the
Coral Gables Art Cinema
, the first indie movie theater in mainland Miami, opening this Friday with a red-carpet screening and party.
So picture it: it's next week. You want to get your Sundance on. You'll step into a Greek revival building on a well-kept block in Coral Gables, where you'll see display cases with old-timey projectors, and megaphones that seem ripped right out of the hands of Chaplin and Keaton (Buster, not Diane).
You'll step up to the counter and buy a ticket for
Freakonomics
, the first movie they'll be showing (
Howl
with James Franco is next on the list). If you're hungry, there's a café where you can grab roasted-veggie wraps and huge cookies, and in a few weeks, you'll be able to buy microbrews and wine as well.
The theater itself is a cozy 144-seater, and if you're interested in Friday's premiere, tickets are still available—there'll also be a post-movie reception with an open bar.
Which might be the best way to digest a movie about economics...