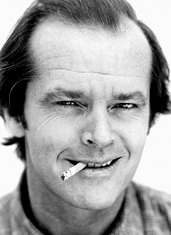 You've seen some crazy things in your day.
A sitcom about cavemen. William Shatner starring in an adapted Twitter feed. Charlie Sheen behaving around women.
But you never thought you'd see Jack Nicholson in fishnets. And you still might not. But you might.
Here to increase the likelihood of that and other weird stuff:
The Rocky Horror Picture Show
Tribute
, a one-night-only event with a mind-boggling cast of participants, now selling tickets.
If you've ever had a very strange dream in which Jack Nicholson, Billy Idol, Mario Lopez and
Glee
's Lea Michele were all guests at your dinner party, this is like that. Except instead of hanging out around a suckling pig at your place, they'll all be at the Wiltern performing
Rocky Horror
together. (Expect the same amount of singing.)
The night is part film party, part live performance and part fund-raiser (it's a benefit for one of Paul Newman's Hole in the Wall camps for kids), and nobody's saying which actors are doing what. So you can only imagine what kind of appearance Nicholson will put in, and you might see Danny DeVito as Dr. Frank-N-Furter... and then Hurley from
Lost
will show up before it's all over.
He does have experience with time warps.