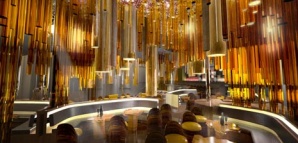 There hasn't been a new "it" lounge in Vegas in a while, but all signs point to the Palazzo's soon-to-hit nightspot being the one.

And with its opening now less than two weeks away (unless it's delayed again), we knew you'd want to get a feel for the place so you could start making plans.

Follow us inside Sugarcane lounge.

First you'll maneuver through the dark corridor that leads from the South American/Japanese restaurant SushiSamba to this loungey hangout, which models itself after a Brazilian favela, or shanty town (because in Brazil, even the slums are ridiculously sexy).

You'll want to skip the main room and set your sights behind the bar, beyond a wall of crumbling plaster and past a little chain-link fencing (yes, really), where you will eventually discover the lounge's very VIP Favela Room. Here in this mystery den you'll find three tables and room for 20—but also frayed leather armchairs, mismatched candelabras and other "found" objects reminiscent of Brazil's labyrinthine mountainside communities. (Think of it as your wrong turn in Rio that turned out incredibly right.)

As for the rest of the lounge, you'll hear the rainforest in the restrooms, eye a sugarcane ceiling with 10,000 stalks and sway with plenty of samba and go-go dancers.

Of course, you can expect a nearly endless waiting list to get in.

But we're sure you'll manage.