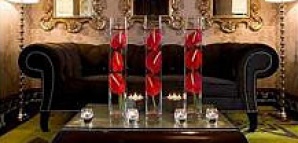 March is upon us, leaving only two weeks until your favorite Guinness-soaked holiday—and there's nowhere better to celebrate it than Dublin.
Never exactly champions of moderation, the Irish have extended their boozy bash to a full week of revelry. And at the epicenter of St. Paddy's (that's right, "Paddy's," not "Patty's"), the hills are green, the beer is not, and knocking back pints is a matter of national pride.
To tap the local spirit but avoid the madding crowd, checkinto
Dylan
, Dublin's newest glam-boutique hotel—which, in its first year, has already won A-list crowds to its exclusive bar, and gastronomic repute for its modern-Irish restaurant. Though tucked between row houses in the classy Victorian district, it's well within stumbling distance of the city center.
Once the suitcases are parked, it's time to begin(de)hydrating. Guinness is the lifeblood of Ireland, and while you can get a passable pint in any corner pub, true aficionados should be choosy. Pop into the three-tiered
Stag's Head
, Joyce's onetime haunt, or head straight to the source: The Gravity Bar at the
Guinness Storehouse
, just down the road, boasts a 360-degree panorama of the city (letting you observe the chaos from a safer distance). After dark, seek refuge from the rowdy TempleBar district at the swanky
Octagon Bar
in theU2-owned
Clarence Hotel
. And for the epic fireworks display, just step outside—the riverfront terrace gives you a front-row seat for the show over the Liffey.
It's sure to be a view you'll never remember.